I got a sudden inspiration the other day when
Gina
tweeted...or pinned...or...one of those about some free printable art. I had three art pieces sitting on the arm of my chair waiting for number four to complete the set and they had been that way for two weeks.
I already had an old photo in a frame so I did a color wash on the frame to match my new scheme (color wash being paint plus some water to change the opacity) and I had a painting I rescued from Goodwill, already framed. I also had a canvas I had made based on the
glitter state pinterest project
. To be honest I based my project off the image and caption alone, the actual directions (follow the pin) are different.
Then I saw
this pin
and knew I needed to have that. I printed it and Mod Podged it to a canvas to match my home state art project and then I had a nice little set!
(If you look closely you can see my cat staring out the window in the reflection)
The chevrons are some chipboard shapes that came in this pack of three for $1.00 at a local variety store. I painted them gold and strung them on jute. I already had a little banner thing going on with my leaf banner on this wall so I chose to hang them this way for some interest. $1.00! C'mon.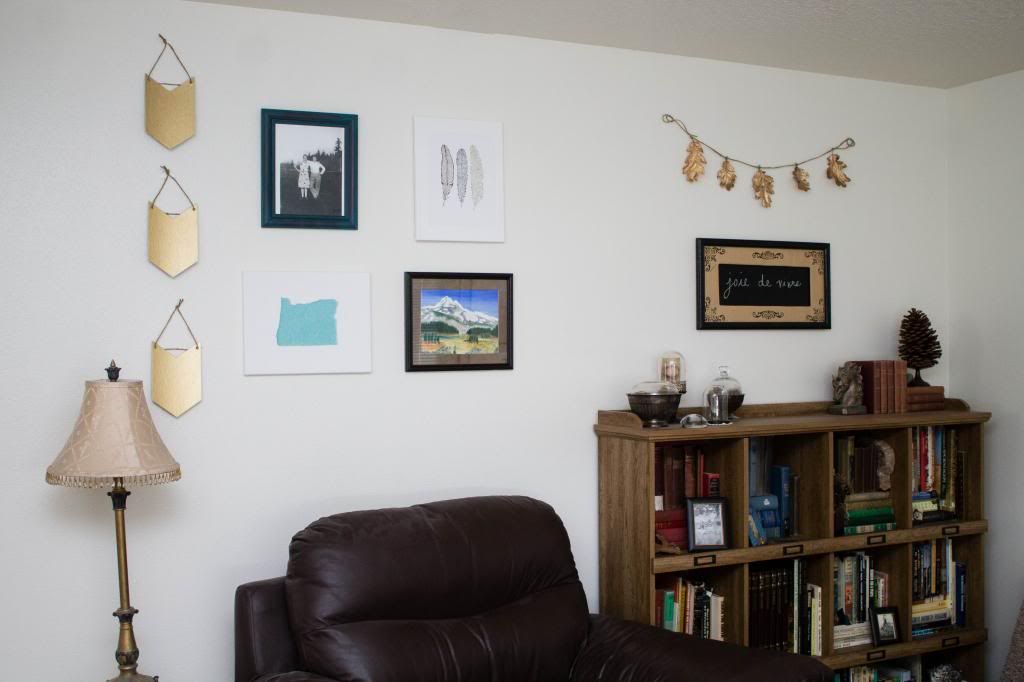 Now my whole wall is decorated! This is a momentous occasion let me tell you. This is truly the art of someone who scrounged for materials but I have to say I'm really enjoying it.
Have you completed any pinterest projects lately?