I recently inherited a microwave cart. If you're too young to remember, microwaves used to be enormous and a special cart for one was really the most practical way to contain the beast and still have counter space left. The one I inherited was made by my grandpa out of juniper wood and even has wheels!
My microwave is pretty small and looked pretty silly sitting on it so I decided to free up space in my pantry by moving all my coffee and tea goodies onto the cart instead.
I also had a random printer table (back when printers used to be huge - do you see the trend? My current printer is tiny) that I've just never gotten rid of. It is doing me a favor by hiding some of my appliances in the lower shelves but the top was free space.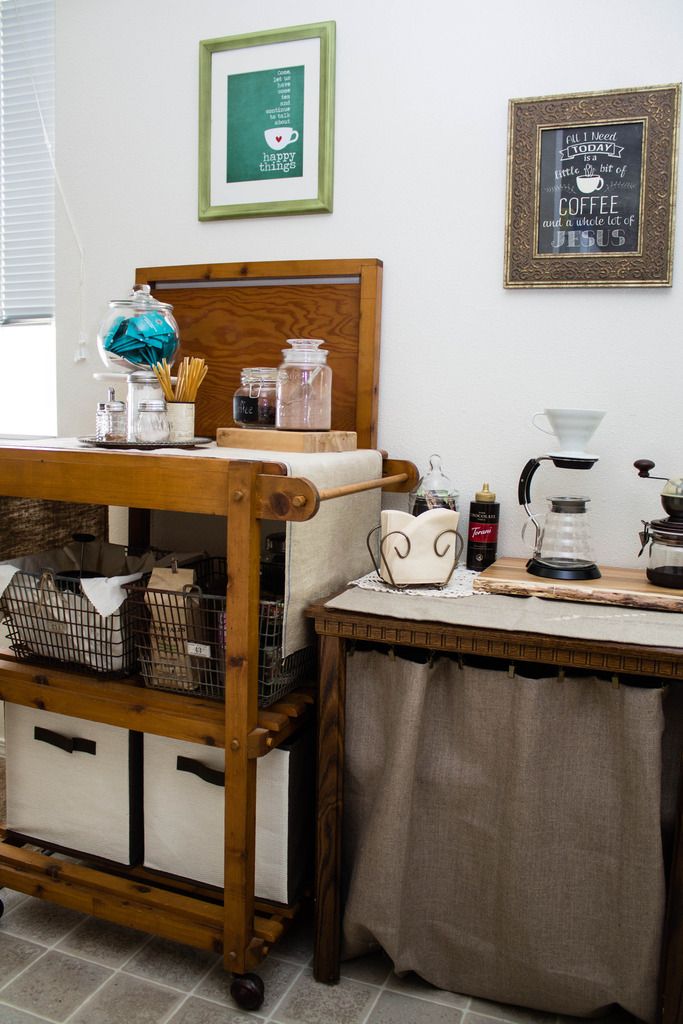 Side by side in my kitchen entry they help visibly break up the space instead of making my kitchen and living room look like one big area. Some linen burlap as runners and a hide-the-mess curtain unify them since clearly these two things don't match at all (except that they are victims of the modernization of appliances).
The top is a mix of thrift and bargain store finds holding cocoa mix, coffee beans, an assortment of favorite teas and all the various additions you could wish for (honey sticks? coconut sugar? cane sugar? cinnamon?)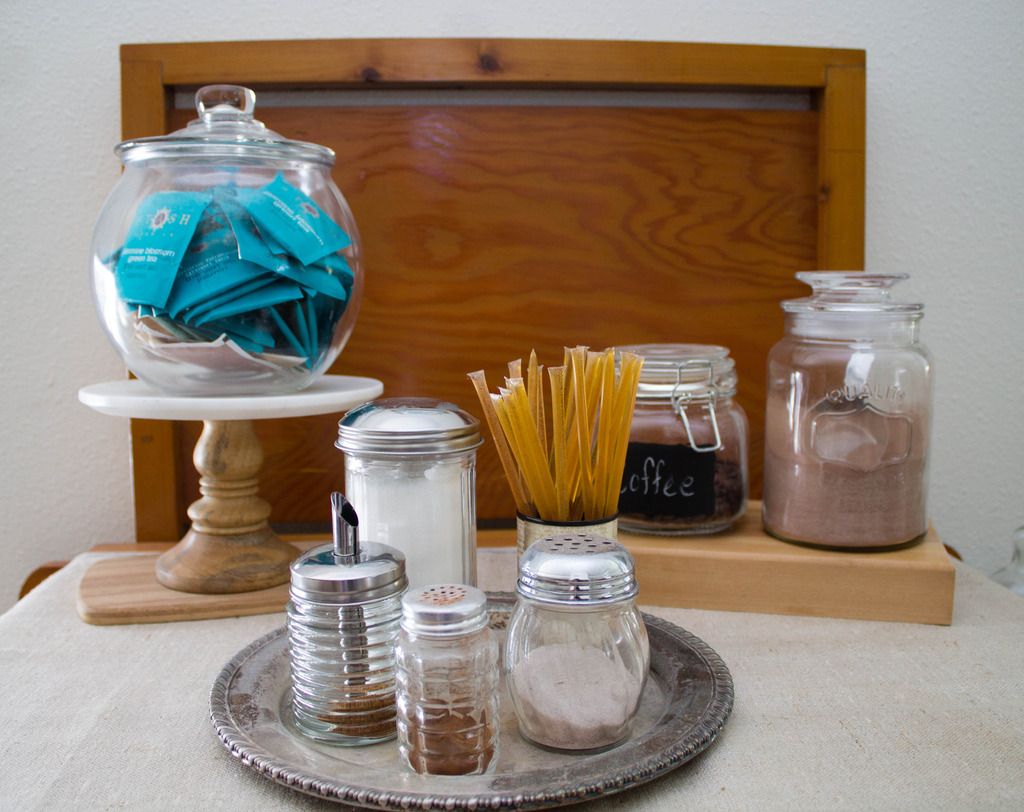 These great vintage inspired jars have a nice tight seal for keeping food items fresh (I found mine at Hi-School Pharmacy). My coffee beans are kept air tight as well (I like locally roasted, ethically sourced
Garage Coffee
)
Below I have a pair of locker baskets that have been around so long I don't even know where they came from. They used to be under my bed doing a really inefficient job of holding old receipts and a really efficient job of gathering cobwebs.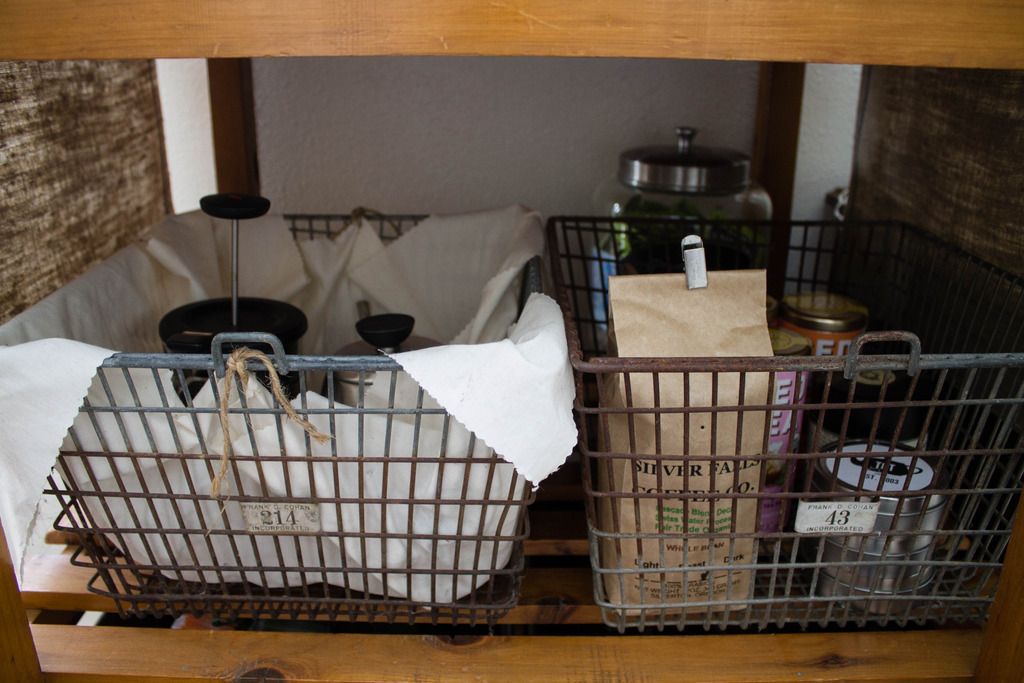 I keep some of my favorite items readily accessible in one and my French press and fancy kettle for pour over coffee in the other (because you need a special kettle. Because of course you do).
On the lowest shelf I put a pair of collapsible baskets? Bins? I found at Ross for $3.99 for the pair. All my boxes of teas are in one and then random tea ware is in the other (all the strainers, steepers, pots, you name it)
My other flat surface is where I decided to put my new obsession: pour over coffee apparatus. I attended a coffee class hosted by the Garage Coffee guys and now I'm just completely obsessed. I hardly ever drink coffee but when I do I want a
good
cup of joe.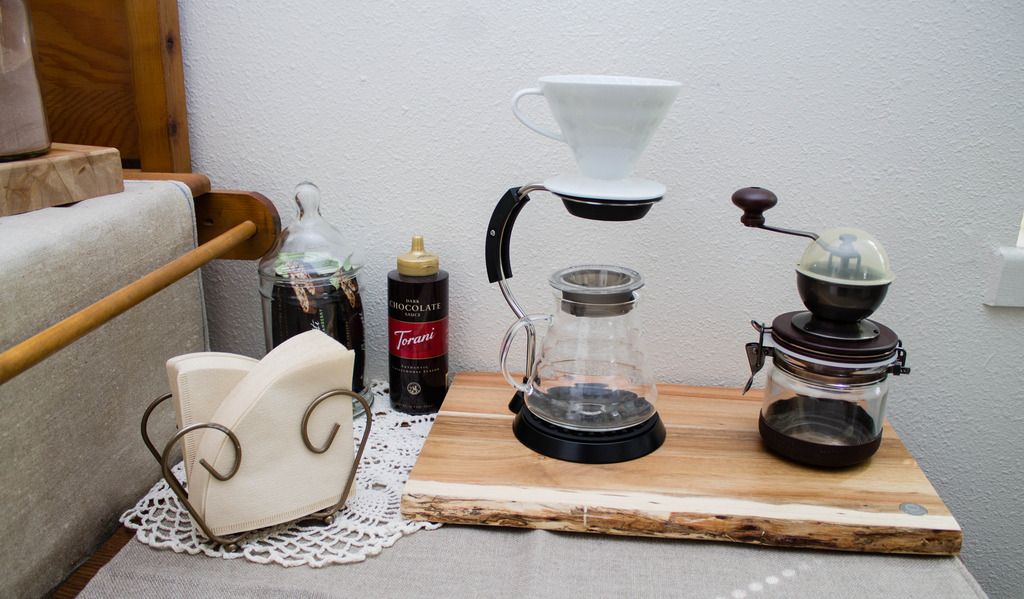 My burr grinder and Hario V60 coffee stuff I ordered from amazon. I found the gorgeous cutting board I'm using as a platform for them at Ross. A dollar store napkin holder is keeping my filters in place. And a thrift store jar is holding some cranberry pistachio biscotti I found at Grocery Outlet.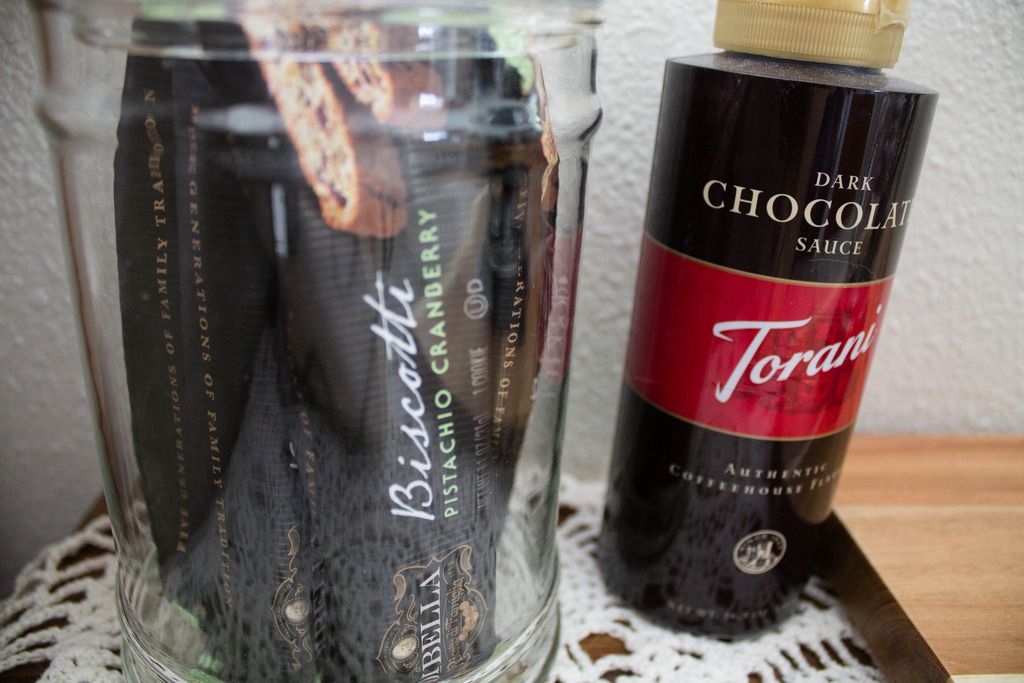 And of course chocolate syrup because I like my coffee when it's mostly chocolate.
A tension rod, little curtain clips and a piece of linen burlap (which I found in the yarn/rug making section of Joann) is keeping everything looking tidy and slightly rustic.
And this wall was way too boring even with all this for me to leave it alone so I hung some artwork I got from my friend Megan (and which came from
Hairbrained Schemes
on Etsy)
And a thrift store frame filled with downloadable and printable art (from
Joyful Art Designs
on Etsy)
I'm in love. It's like living in a coffee shop (sortof) and really isn't that what we all want? Now to make my bathroom look like a luxury hotel...
I, of course, found a ton of inspiration on pinterest. Here are some of my favorites:
Coffee & Tea station
Chalkboard coffee station
Coffee station on a cupboard
You can also follow my coffee obsession on my pinterest board
Magic Beans
.