I really enjoy white in the bathroom, it really helps it feel clean to me. In this case, things I used just happened to be white and then I was able to collect a few to keep it up. Most of the things I used to organize and "decorate" - I'm using that term quite loosely - came from thrift stores so let me show you how I kept the budget way down and kept a clean look.
First of all, because this room just seems to be moisture prone even on no shower days I've decided against hanging art on the walls until I can figure out something that won't be adversely affected by that. I honestly haven't minded as I no longer use this room to do my makeup in the mornings and I don't stand there for an hour staring at nothing.
My shower curtain was a new in the package thrift store find - what a score!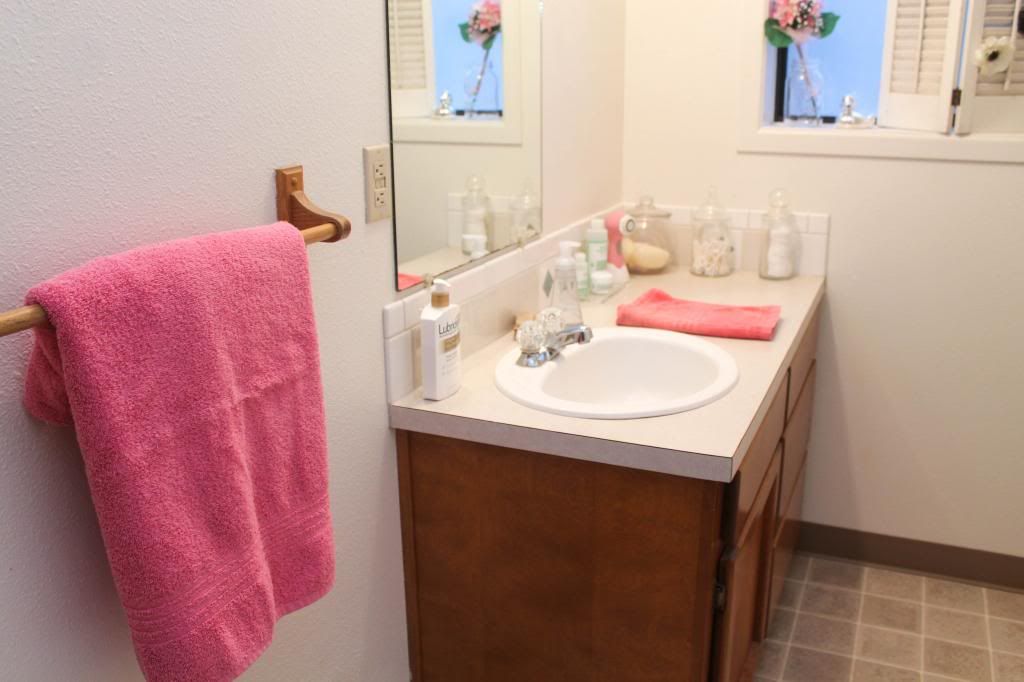 These cupboards/drawers are hideous and SO HEAVY Need something out of the drawer? Add it to the 12 tasks of Hercules.
I remember when I was first touring this place and getting my key and the apartment manager was pulling on the towel rack to see how well it was attached and was like, "Oh this is a good one." And I looked at her like are you crazy? This thing is wooden! And has watermarks!
What can you do.
On the floor is this adorable doily look bath mat I got from World Market. It was cheaper and cuter than the ones I was seeing at Target, go figure.
On the counter I have a series of thrifted jars holding my extra soaps, Q-tips and cotton rounds.
The little glass tray is a new addition, also found at a thrift store. I was amazed at how clean it made things look even though things are still sitting in the same spot.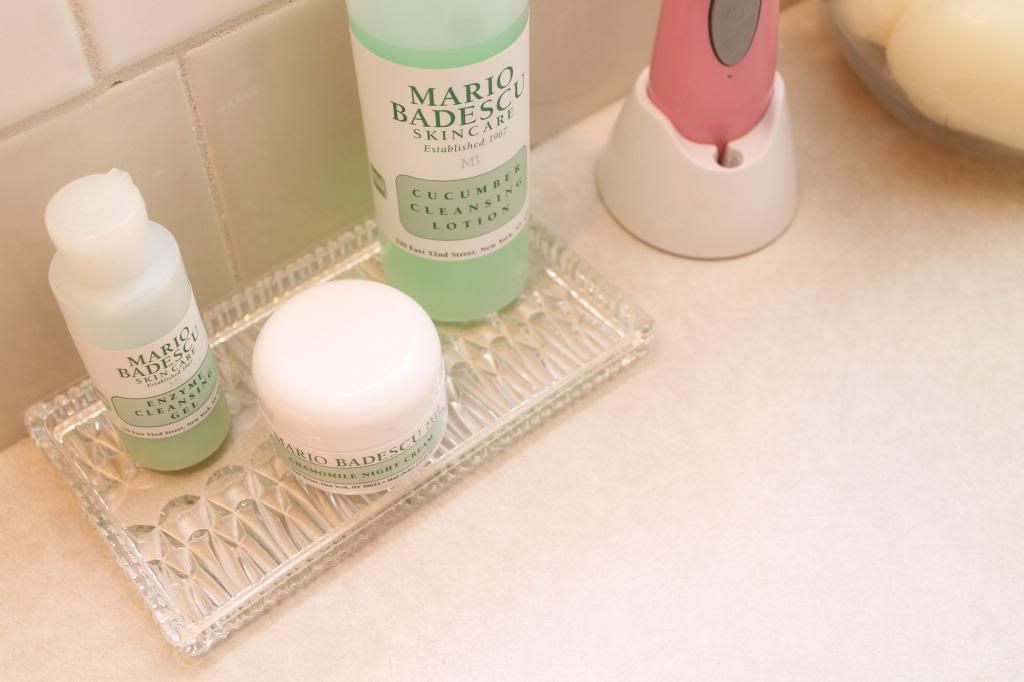 In my window, which I posted about previously, is a shutter which adds extra privacy and hair doo-dad storage.
I wanted to be able to use this "chandelier" I made (see the original post here) but it wasn't waterproof so first I sprayed it with several coats of clear coat. Now it decorates my lightulb instead of the boring fixture that was there previously. Admittedly this works much better when you have a "normal" light bulb.
I'm going to estimate total cost for accessories around $40.
Could you go for a mostly white bathroom? Or would you go nuts and have to hang things on the wall? If you have any suggestions for things to hang that wouldn't be dust catchers or moisture wicking bacteria growers I'm all ears.