I had two problems with my bedroom space. I hadn't hung anything on the walls, and I have about a bajillion too many scarves hung up on the coat rack in the corner.
I actually decided to go for the smaller of the two rooms in my two-bedroom because I had more furniture that needed to go in the library/craft/makeup room. Also the smaller bedroom didn't share a wall and that was really the deciding factor. The point being that there just isn't much in this sleeping space.
I decided to remedy my two issues with the help of these handy little clear Command hooks I discovered.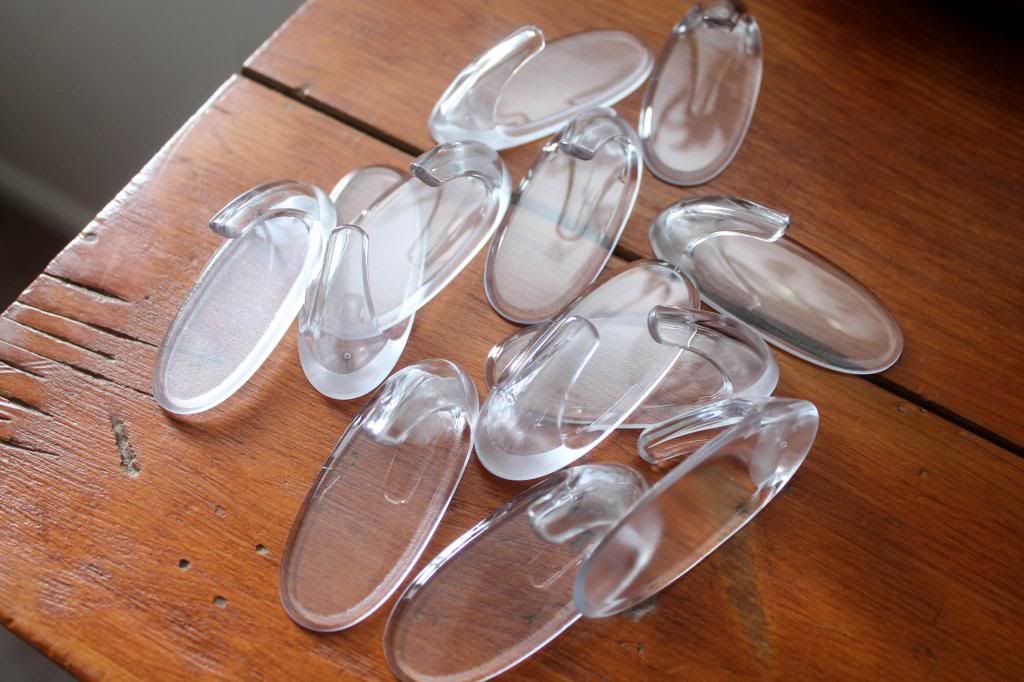 I also used some (a lot) of the Velcro Command strips on this mirror I found at Goodwill (have you ever tried to remove Goodwill price labels? It's like the best glue in the world which is why I didn't even bother trying to remove the label on this since no one will see it anyway.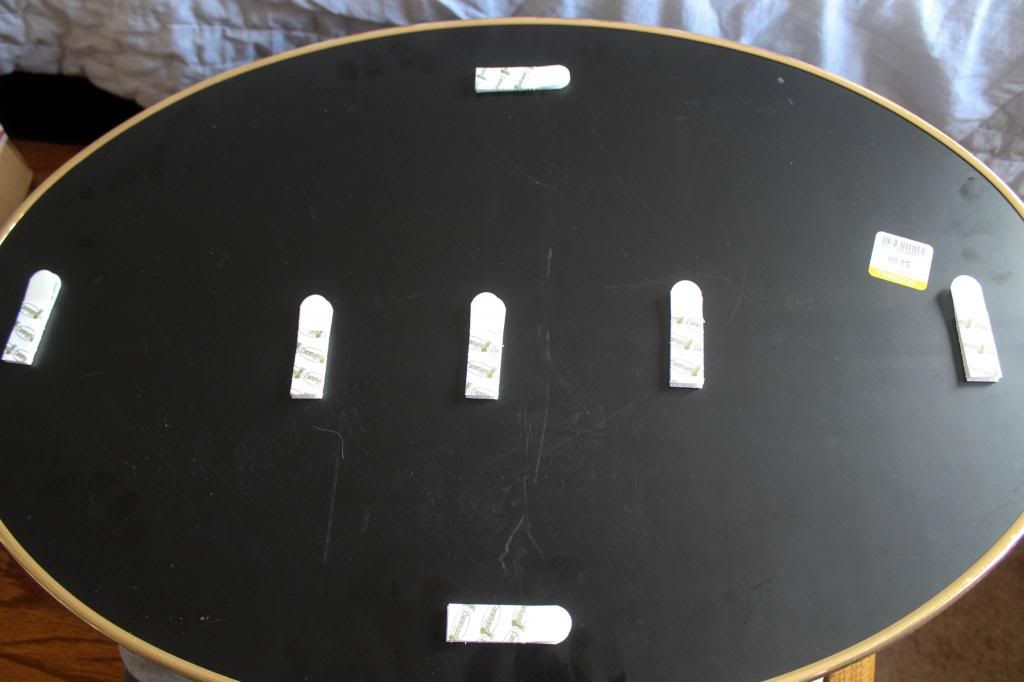 I put them all over the mirror and then snap the wall side ones into place, then it's a cinch to peel the backs and simply stick it to the wall. I've done this for other art and it works great. The heavier the piece, the more strips you want to use. And they aren't difficult to remove as I had already stuck this mirror on the wall and decided I hated the position of it. Sigh.
I used a pencil and a measuring tape to map out spaces 12 inches apart on my wall, stuck my hooks to the wall, and voila.
It gets some of the scarves out of the way and makes art out of them. It did occur to me this might be slightly tacky and juvenile but I decided there were no decorating rules. I hung up the bag because I think it's adorable and the poor thing is always getting wrinkled in a pile somewhere. In case you're wondering I bought the bag
here
.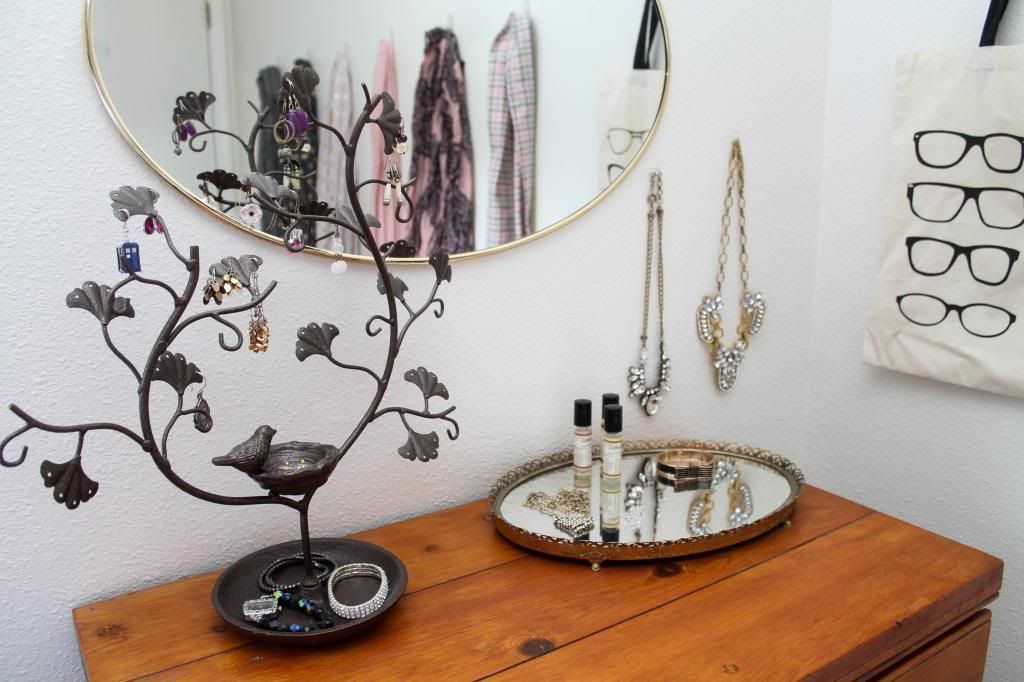 Above the dresser I hung the mirror where I can use it to see what I'm doing when I put on jewelry. The mirrored tray I've had for ages and the jewelry tree was a Christmas gift from a friend.
I jumped on the giant blingy statement necklace bandwagon and those things do. not. fit in traditional jewelry storage no matter how many ways I tried. So I used some tiny clear Command hooks (seriously the company just needs to start offering me stock options at this point) to hang them from instead.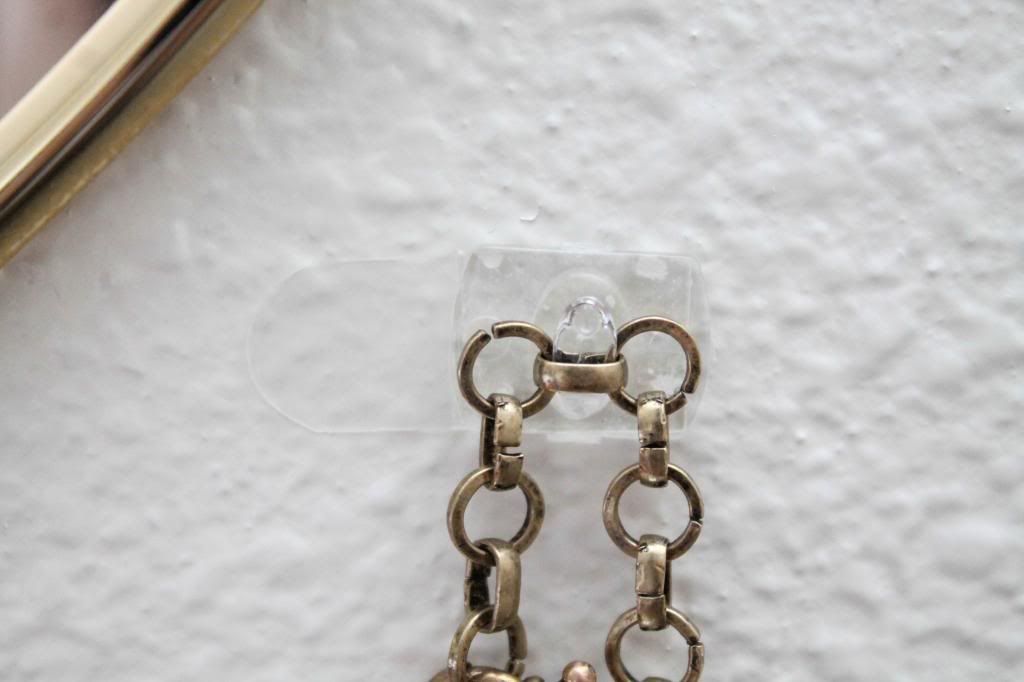 And it turns the necklaces into well-stored art much like the scarves.
Just an FYI - jewelry is more likely to tarnish out in the open like this but if you've got a jewelry buffing cloth and some time in front of the TV you can easily take care of that.
The dresser was a gift from my old neighbor who I was telling about trying to paint a dresser I'd salvaged (to be featured in another post) and he told me he had a dresser I could have. How great was that? (Those storage boxes to the side were blogged about
here
way back in 2009)
I went from blank walls and piles of accessories to dig through to decorated organization.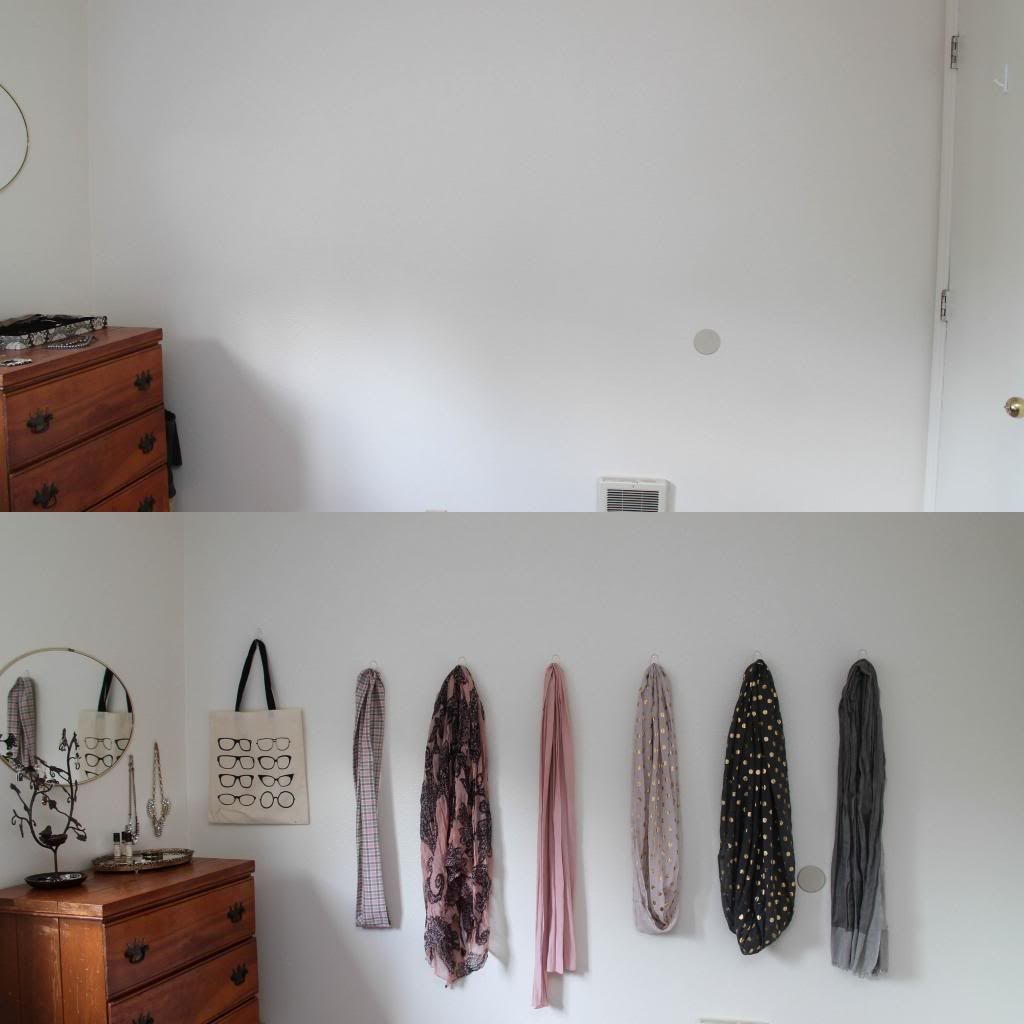 What do you think? Tacky and juvenile? Or would you try something like this in your home?
Also, I have to confess my real reason for being so absent from blogging anymore is that I've run out of storage space on blogger and it is just a pain to upload them to an outside site and then get them over here. It just makes blogging not as fun.
I do spend quite a bit of time on
flickr
and you will find much more of my goings on over there.