I'm fairly new to knitting and am being pretty slow about broadening my knitting horizons. In fact, because I don't knit until the winter months, every year I have to refresh my memory on the parts I know how to do so I always choose a simple project to start me off. This scarflette requires just the most basic knitting knowledge.
I used a 76.5 yard skein of wool blend yarn I bought on clearance for $1.97. This size of skein is perfect for this project because you will use the whole skein. But you could also use up scraps or remnants from larger skeins. (how many times did I just say "skein"?!)
Using size 10 1/2 needles, I did 16 rows of plain knit stitch until I was out of yarn, then bound off and hid my tails. Completed, mine was 25 inches long.
Did you notice there's no instructions for button holes? Your buttons will fit through your stitches. Fabulous, no?
Fold the scarf the way it will look when worn and line up where you want your buttons. Please note that your buttons go along the side of the underside flap so they will be along the end of the frontside flap. I am showing both "flaps" so I get them evenly spaced for the front.
My buttons were free but I had to go through this entire jar to find four matching ones that I liked (I only ended up needing three) and that were an appropriate size.
Mine are 1/2 an inch wide. Be sure to test that your buttons fit through the stitch holes before you attach them.
Using embroidery floss I divided in half (three strands instead of six) I stitched on the buttons making sure they weren't going anywhere.
And that's all! I told you this was easy!
Likely, you (or whoever) will need a mirror to put it on since there are no button holes, but that's not much of an inconvenience is it?
So the yarn was $1.97, the buttons and embroidery floss were free and this project is small enough to not take much time to finish. The only way this would be easier or more affordable is if someone gave you one. :)
Linking to: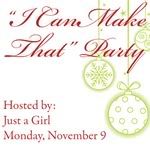 and