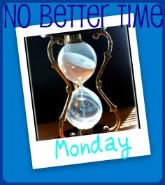 Today is the first edition of No Better Time Monday hosted by A Sanctuary Sought (mysteriously still coming up as "learning to breathe" in my sidebar)
I like blogging because it's fun to share and see and learn and meet but I also like blogging because it motivates me to get things done in a timely manner.
Below is one of my gardens - it had been worked up and then I intended to do it again but this happened:
Stupid weeds.
I ended up hoeing the weeds (great arm workout as well as a great aggression reliever) and raked the dirt flat. Once the dirt was ready I transplanted several volunteer plants from my main garden. I'd thrown a squash type thing out there in the early spring and the seeds decided to go for it!
I planted most of the volunteer plants thinking if I moved a ton of them then at least some of them would survive this late move. Watch they'll all do great and I'll be supplying the whole neighborhood with squash. ;)